What Is Multi AI?

Multi AI is an open-source platform that harnesses the power of artificial intelligence (AI) technology to foster collaboration and create a robust community on the Web 3.0 platform. This project is driven by the vision of bringing people from around the world together, empowering them with AI services, and enhancing the bond between individuals and technology.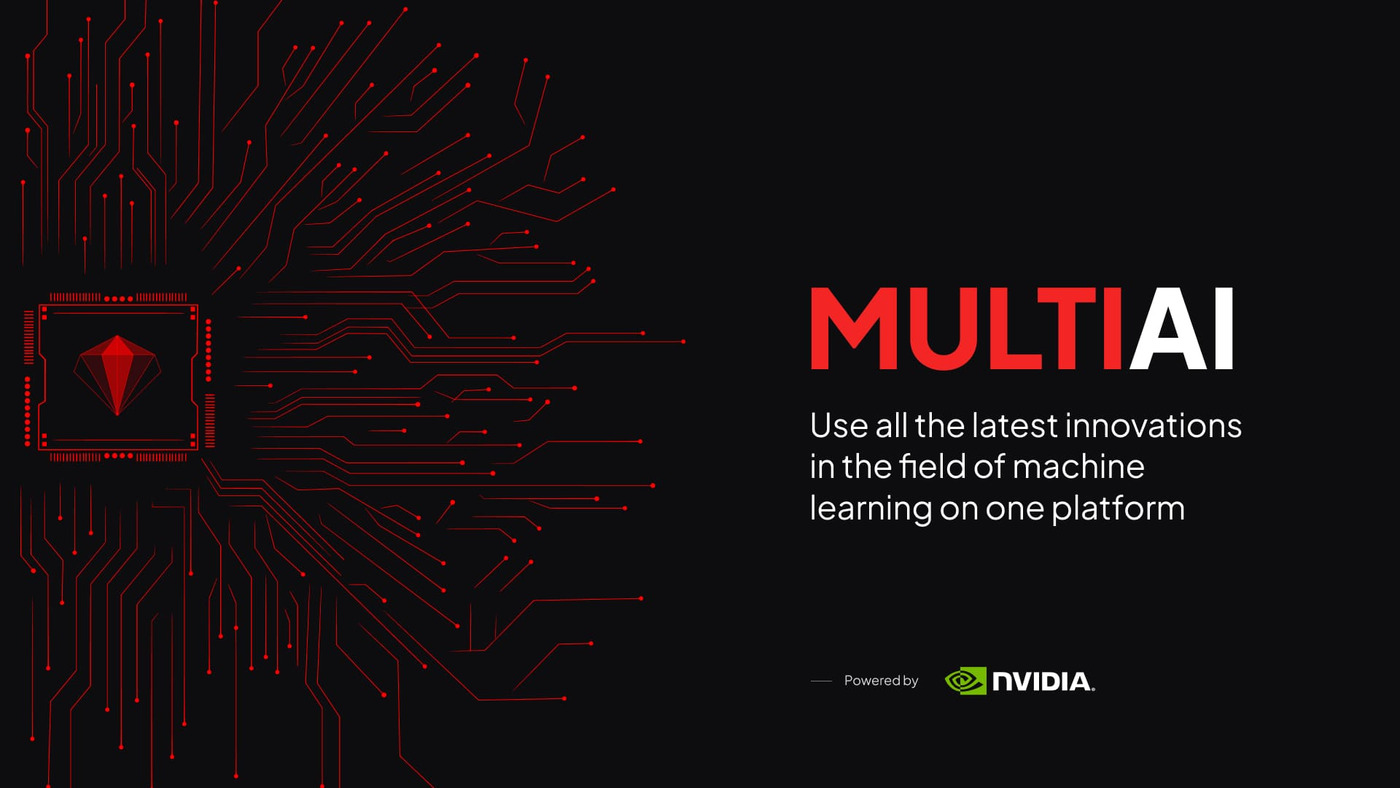 Through on-blockchain integration, Multi AI simplifies normally complex access to a wide variety of AI models, unlocks opportunities for creative users and model creators alike, and facilitates a seamless transition to the new Web 3.0-based ecosystem.
What Does Multi AI Offer To Creative Users?
The platform offers a user-friendly environment where individuals with diverse skill sets can leverage AI technology to drive their creative projects forward, regardless of their technical expertise.
Users are given access to a wide range of neural networks in a single location, for a fair price - in its native token $MAI. These neural networks are deployed on Multi AI servers and powered by cutting-edge hardware, such as Nvidia T4 GPU and Nvidia A100.
Coupled with the support of the industry leader Nvidia, Multi AI ensures security, reliability and scalability in the ever-changing Web 3.0 creative landscape.
What AI Models Are Available?
Multi AI offers easy access to a wide variety of AI models. Its current library already includes many types of audio-visual categories with more on the way - to be implemented by Multi AI or by AI model creators themselves. Here are a few examples:
Text-to-image - text-based image and video generation AI models trained with diffusion processes.
Image-to-text - image-based AI models generating text from any given visual.
Image Restoration - improvement and restoration AI models with deblurring, colourizing and noise removal.
Super Resolution - resolution enhancing AI models with quality amplification capabilities.
Video Creation - AI models that assist in making or enhancing video content.
Audio - AI models enabling generation and modification of audio sources.
Style Transfer - AI models with abilities to change, mix and transform the style of source images.
What Does Multi AI Offer To AI Model Creators?
While giving access to AI models to users in need of enhancing their creative workflow, Multi AI platform also offers the ability for any author to monetize their AI model through the $MAI token ecosystem.
As a revenue share business model project, Multi AI leverages the inherent transparency of blockchain technology ensuring complete visibility and accountability for its services and AI model creator profits.
Where Can I Buy MAI?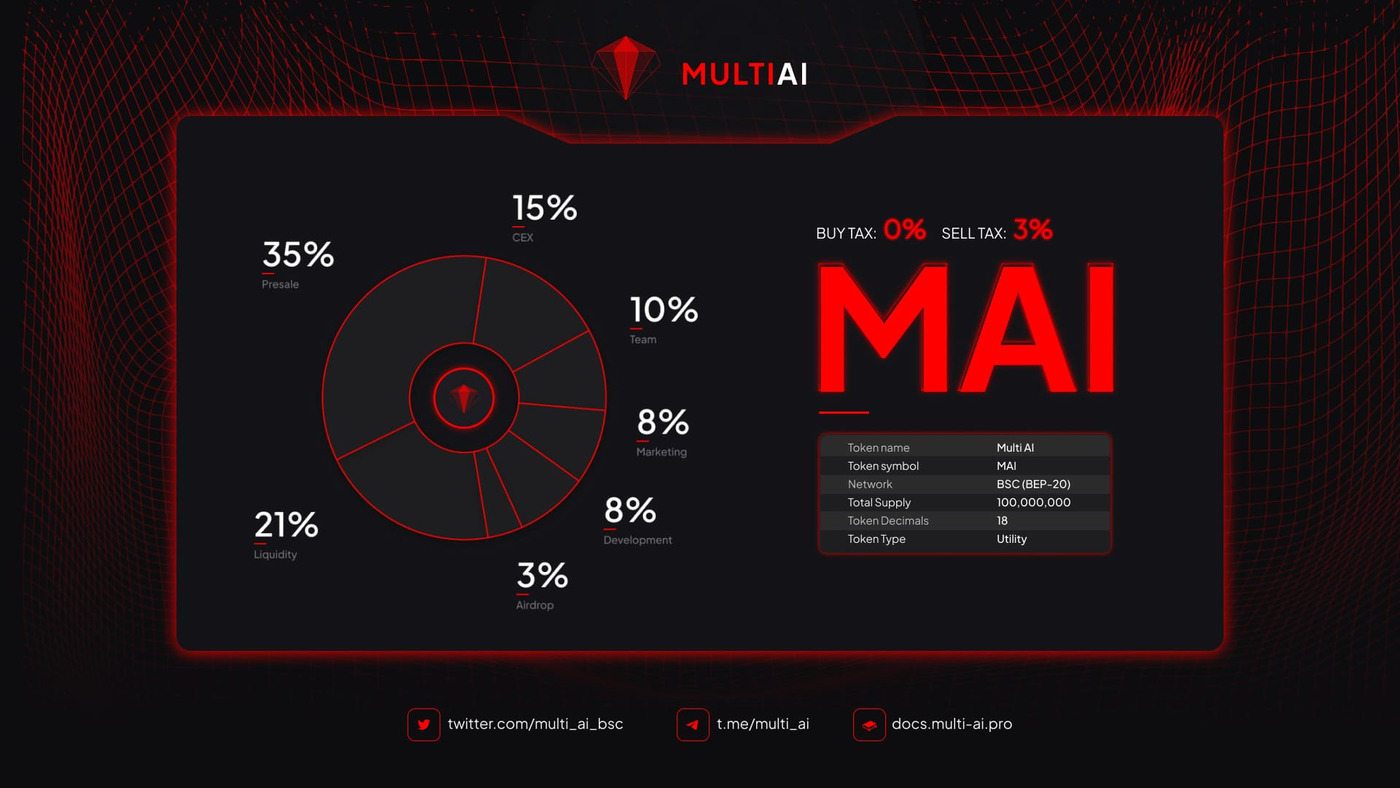 The presale of 35% of the total supply will take place on Pinksale from May 24th to May 26th at 19:00 UTC. The listing on the decentralized exchange PancakeSwap will occur on May 27th.

As an AI-driven open-source platform, Multi AI embodies the ethos of decentralisation, inclusivity, and transparency. By fostering a global community, it aims to empower individuals and organisations worldwide, democratising access to AI tools and services.
Main objective of the project is to facilitate creativity, collaboration and knowledge sharing within the AI community. By providing a platform, Multi AI empowers developers, researchers and enthusiasts to use, contribute, and advance AI technology together. This collective effort strengthens the overall AI ecosystem and paves the way for innovations.
Related Pages
Visit Multi AI Website: https://multi-ai.pro/
Read Multi AI Whitepaper: https://docs.multi-ai.pro/
Join Multi AI Telegram Community: https://t.me/multi_ai
Follow Multi AI on Twitter: https://twitter.com/multi_ai_bsc.
support@multi-ai.pro
Disclaimer:
This announcement is not directed at any investors or potential investors, and does not constitute an offer to sell - or a solicitation of an offer to buy - any securities, and may not be used or relied upon in evaluating the merits of any investment. Any projections, estimates, forecasts, targets, prospects and/or opinions expressed in this release are subject to change without notice. The contents in here should not be construed as or relied upon in any manner as investment, legal, tax, or other advice.
Source published by Submit Press Release >> Multi AI - Open-Source AI Platform for Web 3.0