SEOUL, SOUTH KOREA - The top leaders of South Korea and Japan hailed a 'new chapter' in bilateral relations Thursday, agreeing to restore regular visits to each other's countries and ease longstanding trade and other tensions.
The moves were announced Thursday during a rare summit in Tokyo between South Korean President Yoon Seok Yeol and Japanese Prime Minister Fumio Kishida. Yoon's trip to Japan is the first by a South Korean president for a bilateral visit in 12 years.
'Today's meeting with Prime Minister Kishida has a special meaning of letting the people of our two countries know that South Korea-Japan relations, which have gone through difficult times due to various pending issues, are at a new starting point,' Yoon said.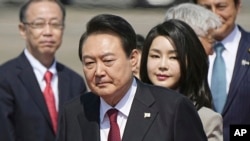 South Korean President Yoon Suk Yeol and his wife, Kim Keon Hee, arrive at Haneda International Airport in Tokyo, March 16, 2023.
Sitting across from Yoon, Kishida said he was very happy 'to start a new chapter of a forward-looking future of Japan and South Korea relations on this day when we can feel the arrival of spring.'
According to South Korea's trade ministry, Japan agreed to lift restrictions on the export of key semiconductor components to South Korea. In return, South Korea will drop a related complaint at the World Trade Organization, it added.
The two leaders also agreed to resume regular visits to each other's countries. Such visits, which were referred to as 'shuttle diplomacy,' have been suspended since 2011.
Yoon and Kishida also agreed to 'fully normalize' an intelligence-sharing agreement known as GSOMIA, Yoon said.
The moves are part of Kishida and Yoon's efforts to establish a forward-focused relationship that can better deal with common challenges, such as China and North Korea.
In a demonstration of those shared security concerns, North Korea on Thursday launched an intercontinental ballistic missile that landed just 250 kilometers west of Japan's Oshima Island in Hokkaido Prefecture.
No damage was reported from the missile, which fell outside Japan's exclusive economic zone, according to Japan's defense ministry.
In his opening remarks, Yoon said North Korea's nuclear and missile threat 'is getting increasingly sophisticated by the day' and is 'a huge threat to peace and stability, not only in East Asia but also in the international community.'
'South Korea and Japan should work closely together in solidarity, and wisely deal with such unlawful threats and dilemmas for the international community,' Yoon also said, according to South Korea's Yonhap news agency.
North Korea's near-constant missile launches since early last year have served as a regular reminder of the threat posed by the nuclear-armed country.
In 2022, North Korea launched more than 90 missiles - by far the most it has ever fired in a single year. Some of the missiles flew close to South Korea and Japan, prompting shelter warnings and air raid alerts.
Japan and South Korea also must deal with the challenges posed by China, which under Communist Party leader Xi Jinping has grown more authoritarian at home and more aggressive abroad.
Though they face many of the same problems, Japan-South Korea ties have long been unstable, due to disputes related to Japan's 1910-1945 brutal colonial occupation of the Korean Peninsula.
Relations reached their worst point in decades after South Korea's Supreme Court in 2018 ruled that Japanese companies must compensate South Korean victims who were conscripted into forced labor.
Last week, Yoon unveiled a plan to resolve the forced labor dispute. Under Yoon's plan, the victims would be compensated through a public foundation funded by donations from South Korean companies, without the direct involvement of Japanese businesses.
The plan has been heavily criticized by South Korea's opposition Democratic Party; multiple polls suggest about 60% of South Koreans oppose the proposal, with many saying that Japanese companies should offer compensation.
Protesters gather for a rally to oppose the visit of South Korean President Yoon Suk Yeol to Japan, in front of the US embassy in Seoul, March 16, 2023. The signs read 'A pro-Japanese traitor.'
Japan insists the forced labor and all other compensation issues were resolved by a 1965 treaty that established relations between Japan and South Korea.
It is still not clear the extent to which Japanese companies may voluntarily contribute to the government-backed foundation, or other efforts to improve bilateral ties.
During the summit Thursday, Yoon said he has no plans to seek reimbursement from Japan, Yonhap reported.
Many analysts say the attempts at improved Japan-South Korea relations may falter if Japan does not offer significant reciprocal steps related to the forced labor issue.
'Both Japan and South Korea have a stake in stabilizing their relationship with each other more than ever before,' wrote Scott Snyder, a Korea specialist at the U.S.-based Council on Foreign Relations.
'But the sustainability of such efforts will be subject to future reversals in the absence of acts of statesmanship by both Yoon and Kishida to build a lasting consensus capable of insulating the relationship from domestic political influence in both countries,' Snyder said.