Sha?Carri Richardson claimed she was ?harassed? before being removed from the American Airlines flight
American track and field star Sha'Carri Richardson has shared footage of herself being removed from an American Airlines flight in an apparent row over her use of a cell phone. Richardson claimed she was the victim of "intimidation" from a flight attendant, although fellow passengers could be hear applauding as she was escorted off the aircraft.
Posting two videos of the incident on Instagram on Saturday, Richardson accused an attendant she identified as "John" of disrespecting her prior to takeoff when he asked her to end a cell phone call.
"Prior to the video this gentleman asked me to get off a cell phone call, I did," wrote the 22-year-old in a caption to one of the clips shared with her 2.2 million followers.
"I stated to him I didn't like the tone he used with me. Following that while standing in front of me doing the safety protocols he continued to lean over to look at my phone. He asked to see that my phones were in airplane more at this point. He demanded that me show him. Which I did in front of him."
Richardson wrote that she was traveling on vacation, although it was not immediately clear where she was heading from or to. As the incident continued, the runner recorded the flight attendant as he attempted to hide behind a curtain.
"I'm recording me but you jumped in my video, so I caught you, because you jumped in my video. You're harassing me at this point, so I think you should stop."
Richardson also rowed with fellow passengers as they exhorted her to stop arguing, before eventually making her way off the plane.
"Y'all have no idea who I am," said the sprinter as she waved sarcastically to passengers as they applauded her off the flight. "I'm still a superstar, what the f**k is your problem, you're a regular person. I can fly a private plane, dumba*s."
Richardson asked social media followers if she should pursue a legal case against American Airlines for her supposed mistreatment.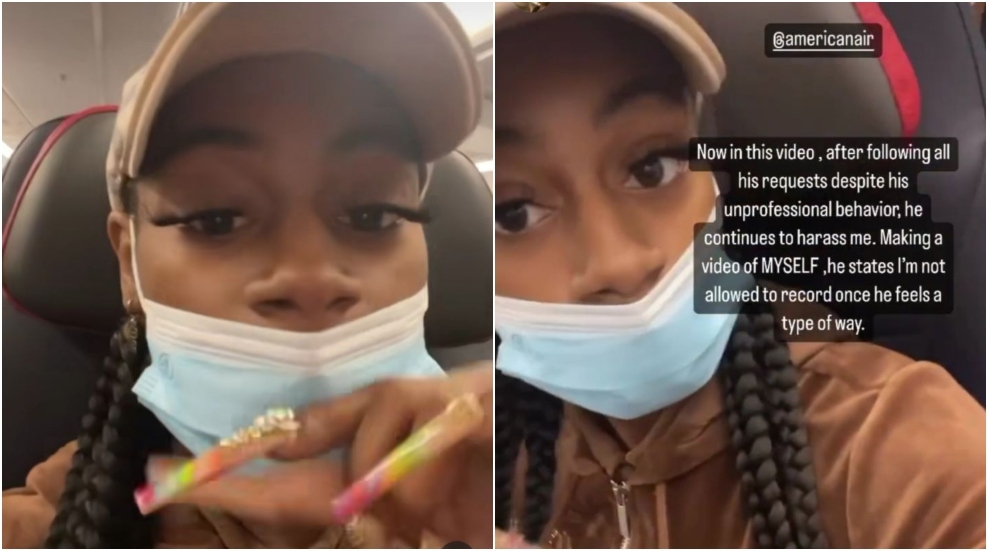 Richardson shared her anger with her 2.2 million Instagram followers.
Instagram @carririchardson_
"Tell me if I'll be wrong to pursue legal actions against the airline @americanair not only did the man threaten me but also an innocent bystander who simply just wanted a picture with me," wrote the runner.
"In the beginning of the video you can hear a Caucasian male state that he doesn't give a f as a man that male flight attendant is intimidating a woman.
"Also the captain not doing anything to help the situation and this flight attendant has the applause when I exited the plane when I'm pretty serious the disrespect I received would not have happened if I was a one of them."
The Dallas-born Richardson shot to fame as a teenager at Louisiana State University with some blistering performances which saw her clock the fourth-fastest 100m time by an American woman in history.
She was set to represent the US team at the Tokyo Olympics in 2021, but was famously banned for marijuana use ahead of the Games. Richardson said she had used the substance as a coping mechanism following the death of her biological mother. However, a one-month suspension meant she missed the showpiece in Japan.
Richardson made headlines again during the Winter Olympics in Beijing last February, when she suggested she had been the victim of racism when comparing her case to that of figure skater Kamila Valieva.
The teenage Russian star was cleared to continue to compete in Beijing despite the emergence of a positive test for a banned heart medication based on a sample taken six weeks before the Games.
"Can we get a solid answer on the difference of her situation and mines? My mother died and I can't run and was also favored to place top 3. The only difference I see is I'm a black young lady," claimed Richardson at the time.
(RT.com)