The Little Hay Co. has launched a premium dust free and spore free hay that is grown and harvested in the Cotswolds, perfect for the UK's small pets, including rabbit hay, hay for hamsters, plus gerbils, mice and even chinchillas.
Mixed tasting hay samples present an ideal opportunity to taste test three different varieties of specialist hay, grown to meet the health and welfare needs of domestic rabbits and other small pets.
Naturally, these species would forage and rely on native grasses and hays to thrive, replicated by three distinctive yet unrefined and non-synthesised hay varieties included in each testing menu; a Cotswold Sweet Hay, a Timothy Hay and a Silky Soft Hay.

The Importance of Quality Hay for Small Pets
Professionally harvested hay is essential for the health of rabbits, guinea pigs, chickens, and other small rodents. Animal welfare charities recommend the ideal diet comprise at least 85% to 90% hay or grass, a challenge for British families during wet winters and hot summers.
As a nation of pet lovers, demand for premium hay has skyrocketed, particularly since the pandemic when over 3.2 million families chose a pet to join their households.
Mass-produced hay contains high volumes of dust, dampness and other airborne content that poses an issue not solely for the happiness and health of pets but for their owners too.
Beautifully packaged in eco-friendly boxes, the Mixed Tasting Samples are created with a process that takes traditional farming methods and adds careful quality assurance procedures. Hay is baled in a controlled environment, retaining a balance of consistent moisture content.
The outcome is a tasting menu with a perfect combination of fragrance, texture, nutrition and minerals, available year-round for discerning pets and conscientious animal owners.

Challenging Convention in Pet Food Manufacturing
Pet food quality has been back in focus as pet owners recognise the importance of feeding well-made, nutritious and beneficial food to their beloved animals - giving rise to substantial increases in the market for premium, organic, raw and natural foods for cats and dogs.
The Little Hay Company has brought the same dynamic growth to the world of small pets, which is no minor sector with over 1.4 million chickens, 1.1 million pet rabbits, 850,000 guinea pigs and 1.2 million smaller rodents bringing companionship and happiness to homes across the UK.
Dusty, stale, musty or low-quality hay can cause fungal infections and digestive problems and introduce lice and mites to vulnerable pets.
Premium hay provides a crucial source of nutrition and ensures that animals can naturally keep teeth from overgrowing and causing other, potentially more severe health issues.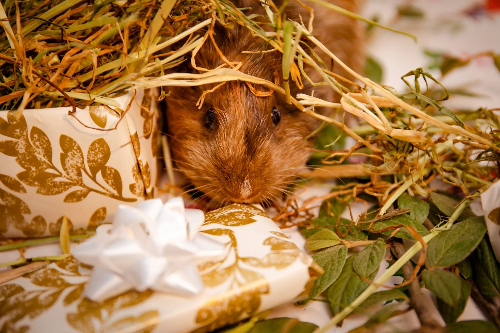 Reviews of The Little Hay Co. Taster Boxes
Choosing a Taster Menu is an easy way to see which hays and grasses become a firm favourite since particular pets may have preferred flavours, encouraging them to eat the recommended volume to ensure long-term health. Our Cotswold hay is now available for next day delivery
Alexander, the farmer behind The Little Hay Co, says, "The Little Hay Co has been a challenging journey but very worthwhile - we have achieved our aim of reliably making the best hay in the UK. With plenty of excellent quality stock to see us through to next season, I really look forward to the coming year."
The sentiment is echoed by customers, who report that the taster menu has been gratefully received, saying, "My rabbits and guinea pigs absolutely love the hay! They eat the meadow mix and it smells so lush and sweet. Definitely recommend this company for hay!!"
The hay-volution is no small matter for concerned pet owners. It seems set to replace conventional produce as a healthier, safer and more luxurious experience for small pets and their humans alike.
Media Contact:
Masie Copestake
The Little Hay Company
Instagram: @littlehayco


Original Source of the original story >> Little Hay Co. Launches Hay Taster Menu and Hay Boxes for Small Family Pets
This content is published on behalf of the above source. Please contact them directly for any concern related to the above.
This press release may contain forward-looking statements. Forward-looking statements describe future expectations, plans, results, or strategies (including product offerings, regulatory plans and business plans) and may change without notice. You are cautioned that such statements are subject to a multitude of risks and uncertainties that could cause future circumstances, events, or results to differ materially from those projected in the forward-looking statements, including the risks that actual results may differ materially from those projected in the forward-looking statements.